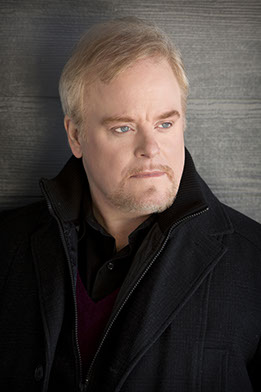 Curtis Peters is an American tenor who lives in Livonia, Michigan. Mr. Peters received his Masters degree in Voice Performance from the University of Michigan School of Music, where he studied with internationally acclaimed soprano Lorna Haywood. Following his graduate work at the University of Michigan, Mr. Peters continued his studies with world-renowned voice teacher and clinician Richard Miller at the Oberlin Conservatory of Music. Mr. Peters now studies with New York voice teacher David Jones. His coaches have included Nico Castel, Greg Buchalter and William Hicks of the Metropolitan Opera, Martin Katz of the University of Michigan, Suzanne Acton and Jean Schneider of Michigan Opera Theatre and Eugene Bossart, Professor Emeritus of the University of Michigan.
Mr. Peters has performed as soloist with many groups throughout Michigan, including recent appearances with the Windsor Symphony, the Detroit Oratorio Society, the Livonia Symphony, the Flint Symphony, the Royal Oak Symphony, the Plymouth Symphony and the Metropolitan Detroit Chorale. Mr. Peters also recently made his debut with the Rochester Symphony, singing Messiah alongside Metropolitan Opera bass James Patterson. Mr. Peters has also recently been chosen to sing "Nessun dorma" for a national television advertisement for Ford Motor Company created by advertising giant J. Walter Thompson.
Equally gifted as a concert artist, Mr. Peters recently sang with the Rochester Symphony, performing the tenor solos in Beethoven's 9th Symphony. Other performances included performances of the Dvorak Stabat Mater with the Rochester Symphony and Bach's Magnificat with the combined voices of Vangard Voices and the Dearborn Community Chorus. Mr. Peters recently recorded the leading tenor roles in Yanitza and Acis et Galatée, two cantatas composed by Detroit Symphony director Paul Paray; these cantatas were recorded with members of the Detroit Symphony augmented with musicians from the Michigan Opera Theatre orchestra. Most recently, Mr. Peters sang a concert presentation of Wagner's "Tristan und Isolde" in New York City. Mr. Peters sang Tristan opposite German dramatic soprano Vera Wenkert as Isolde.
Mr. Peters' oratorio experience includes numerous performances of Handel's Messiah, Mendelssohn's Elijah and St. Paul, Haydn's Creation, Lord Nelson Mass and Mass in Time of War, Mozart's Requiem and Coronation Mass, the Bach Magnificat, Schubert's Mass in G and the Verdi Requiem.
Mr. Peters has been the recipient of several awards recognizing his vocal abilities, including the Elisabeth Schwarzkopf - Walter Legge Scholarship from the University of Michigan and the Detroit Music Study Club's Scholarship for students of voice. In addition to this, he is a previous winner of the Livonia Symphony's Young Artist Competition.